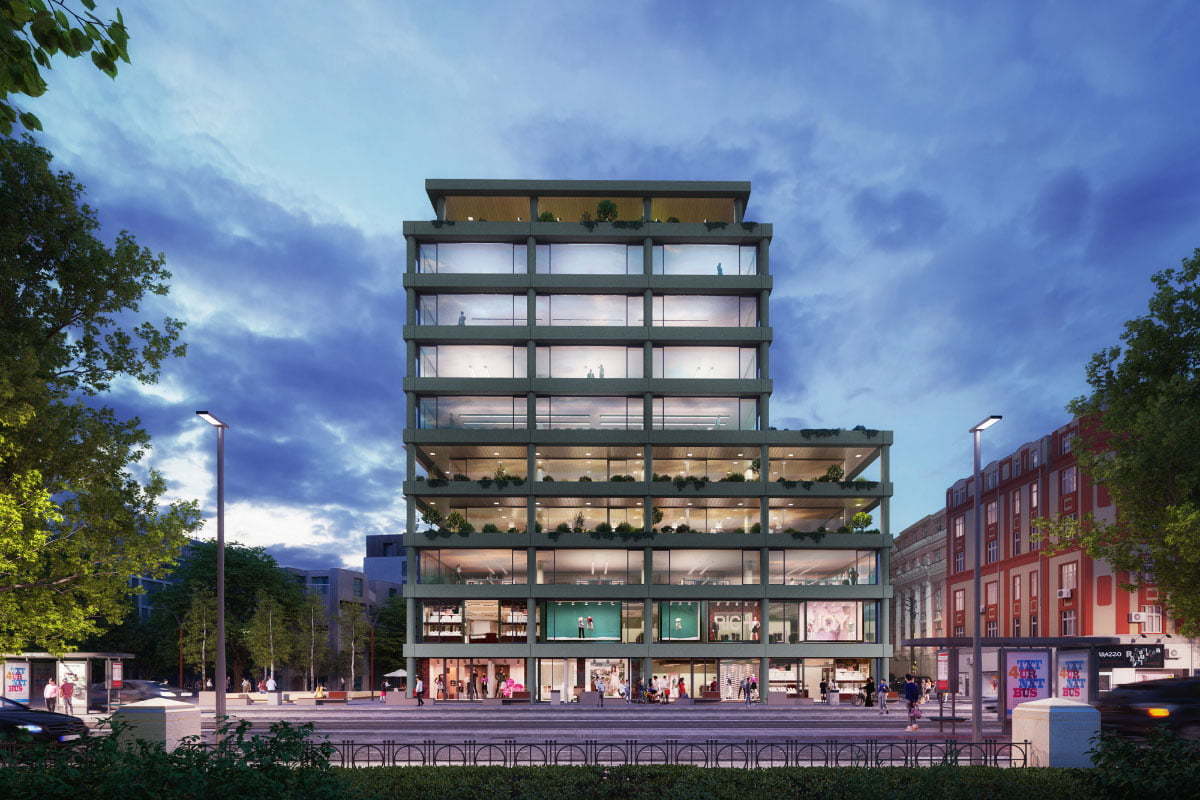 The longest and oldest street in Belgrade – King Alexander Boulevard, changed names through its multi-century history: Via Militaris, Carigradska street, Fišeklija, Markova, Alley by the golden cannon, King Alexander Boulevard, Red army Boulevard, Revolucija Boulevard. At one time, it connected Belgrade and Istanbul, and thanks to that long and complex history, it always represented Belgrade's backbone of trade and business, and later culture and education.
"And thus, the Boulevard has always been the bearer of changes, both big and small, revolutions and progress.
With its architectural design and contemt, the commercial building ""Revolucija"" is consciously relying on those values, values of architecture and progress that the Boulevard has been carrying for centuries.
With its contemporary response, the facility is bringing a new impuls to its surroundings, as the building elements of the facade are materialized in exposed concrete. In addition, there is a glass curtain wall, made from triple plane glass with all necessary specifications needed to protect you from noise. The final characteristic of the exposed concrete is the smooth brushed texture colored with pastel grey. The chosen materials and their final treatment have the quality and representative characteristics of stone."
Every floor has a planned terrace, whose final materialization is conveived in wooden paneling with a fence characterized by planters filled with lush greenery. By doing so, the inner work space will truly be enriched by the experience of natural material and greenery. Special attention is dedicated to the flexibility of the office space where, thanks to a flexible system or airconditioning, but also ambient diversity, it is possible to organise and use the space in different ways. Natural ventilation of the space is planned.
On the ground floor are located luxuriously equipped bars, which are accessed from the main Boulevard. In the underground garage it is possible to park 64 vehicles. For business people who use bicycles in public transport there will be designated parking spots available, as well as showers. On the fifth and the top floor are located the state of the art conngress and event centers with exclussive inner gallery and double height space that is surrounded with big terraces tucked away in greenery.